InSEASON Trout Stocking Schedule 2001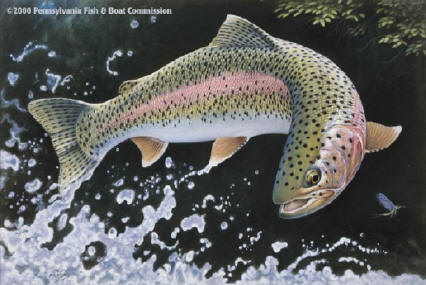 Note: Inseason stocking of legal size trout for the year 2001 will begin on April 16, 2001. Under Commission policy, information about the week of inseason stocking is provided. Except for certain announced Saturday stockings of lakes, the day of inseason trout stockings is not announced. IMPORTANT: Inseason stocking schedules are subject to change without notice. This schedule was last updated on March 15, 2001
Click here for the statewide inseason stocking list in .pdf format.
Check the 2001 Trout Page for latest information!
PFBC hatchery trout stocked in spring 2001 are not subject to any consumption advisories for PCBs. Check this web site for additional information.
InSeason Trout Stockings Sorted by Counties

Click here to send email to the Fish and Boat Commission's Webmaster. Use this link to send questions or comments about the Fish and Boat Commission, the content of our web pages and fishing and boating in Pennsylvania.
Commonwealth of Pennsylvania Privacy Policy

Copyright 1997, 1998, 1999, 2000, 2001 Commonwealth of Pennsylvania, Fish and Boat Commission. All rights reserved. Any reproduction or publication of any material found on any of the Fish and Boat Commission web pages or web site without the express written consent of the Pennsylvania Fish and Boat Commission is prohibited.
---
Please send technical comments and problems to webmaster@state.pa.us.
This page was last updated at 03:31:41 PM, on Thursday, March 15, 2001.