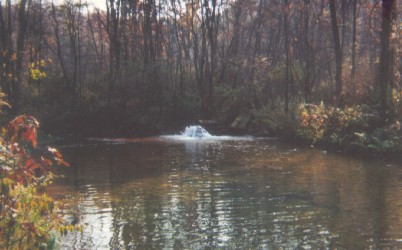 For more project photos, check out our project photo gallery.
The Kolb discharge project has been a long time in coming. Because it was one of the most visible problems in the watershed, it became one of our top priorities. Situated in the headwaters of Blacklegs Creek, the Kolb discharge has a flow exceeding 1,000 gallons per minute and contributes over 20 tons of iron to the substrate of the stream annually. In 1998, our organization received a small grant from the Western Pennsylvania Coalition for Abandoned Mine Reclamation (WPCAMR) to assist us with publicizing our efforts and to begin treatment of the discharge. As we soon found out, we were in for more than we bargained for!
Luckily, iron is the only pollutant coming from the discharge that is an immediate threat to the watershed. Knowing this, we realized that by adding aeration to the water, we would be able to drop out the iron and drastically improve Blacklegs Creek for several miles. With the assistance of the Indiana County Conservation District and WPCAMR, a plan was devised to install several splash dams throughout the channel of the discharge. This would be an inexpensive alternative to other treatment options. Lou Kopczyk of the Conservation District designed a simple treatment system, which we presented to WPCAMR for approval. Due to the limited amount of funding, we were only able to complete one in a series of seven splash dams. Although it was small, it was our first real clean-up project. Unfortunately, we were unable to complete the project as originally designed due to permitting issues. We had the right idea, but we needed another plan.
Forced to come up with a new treatment option, we sought the services of Skelly and Loy, Inc. After viewing the project area and discussing various treatment options with our group, it was determined that a passive treatment system that would add alkalinity and aeration to the mine water would be the best method. Now all we needed was the funds to complete the project. For that, we turned to the Pennsylvania Growing Greener Program. Skelly and Loy prepared our proposal in February 2000 and we received word by June that a grant in the amount of $65,500 was headed our way! Following the announcement, R&P Coal Company donated the necessary land, approximately 500 feet below the discharge, to design and build the treatment facility.
With all of the project components now in place, we are ready to move into the actual project design and then construction. At this time, it is estimated that the project design will be completed by December 2000 with construction slated for early spring of 2001. The goal is to design and install the system as soon as possible so that we can move on to other projects. You can follow the project in pictures by viewing our project photo gallery! Enjoy.